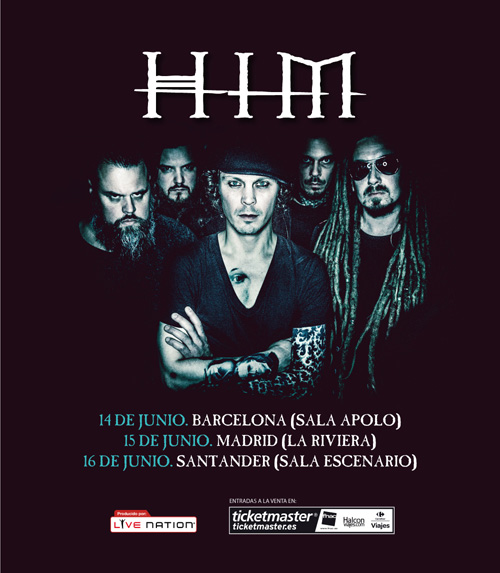 HIM REGRESAN DE GIRA EN JUNIO

La formación finlandesa regresará en Junio de 2017 a España y Portugal, después de 9 años de su última gira, con fechas en Barcelona, Madrid, Santander y Oporto. Con más de 8 millones de discos vendidos desde sus formación, la distinción de haber grabado el single más vendido en la historia de Finlandia, 'Join Me In Death' de su álbum de 1999, Razorblade Romance, ser la primera banda finlandesa en haber conseguido un disco de oro en 2005 en USA por las ventas de Dark Light, además de haber encabezado los mayores festivales en Europa y colgar el cartel de sold out en la mayoría de sus conciertos, HIM demuestran que son un grupo a tener en cuenta.

Desde su irrupción en el año 1995, la banda han intentado siempre no ser un grupo al uso. Liderados por el carismático Ville Valo, HIM han intentado unificar los riffs del metal más pesado -nunca han escondido su amor por Black Sabbath y Type O Negative-, baladas desesperadas y unos característicos teclados, creando una fórmula que desde el mismo momento de su creación ha sido imitada por bandas de todo el mundo.

Su último álbum, Tears On Tape, fue editado en el año 2013 y para esta nueva gira HIM ofrecerán un repaso a todos los grandes éxitos de su trayectoria, en unas actuaciones que, de nuevo, serán memorables para sus miles de fans.

HIM GIRA ESPAÑOLA
14 de Junio. Barcelona (Apolo)
15 de Junio. Madrid (La Riviera)
16 de Junio. Santander (Sala Escenario)

PORTUGAL
17 de Junio. Oporto (Hard Club)
TUSKA CELEBRATES 20TH ANNIVERSARY – HIM TO HEADLINE

- Tuska at Suvilahti, Helsinki 30.6.-2.7.2017
- HIM announced as the first headliner
- Other confirmed acts: Suicidal Tendencies, Mayhem and Brujeria
- Special priced "Early Crow" 3-day tickets now available


That's a fact: Finland's longest running and boldest metal festival, Tuska, will be celebrated for the 20th time the coming summer. It's been a long and rocky road from the depths of Tavastia-klubi, through two different outdoor venues to Suvilahti, where Tuska settled in 2011. The 20th anniversary will take place during the weekend of 30.6.-2.7.2017. Be sure to mark that in your calendars – in blood.

HIM TO HEADLINE
At last have the stars and hearts aligned, and HIM's first ever Tuska-appearance is finally coming to fruition. HIM's Tuska show has been in the works practically the entire existence of the festival. It's also noteworthy that this will be HIM's first outdoor show in their hometown Helsinki.

Tuska's and HIM's histories intertwine from the start as some of the most prolific names of the booming Finnish metal scene during the change of the millennium. Both entities got their start around the same time as HIM frontman Ville Valo and Tuska-founder Tony Taleva hung out in the thriving Helsinki music scene. Ville's band started their journey to become one of the biggest names of the era and the festival that Tony started went on to become the mainstay of the Finnish metal scene as the metal biggest festival in the country.

Other confirmed acts at this point for Tuska 2017 are crossover pioneer Suicidal Tendencies, black metal classic Mayhem who will play their "De Mysteriis Dom Sathanas"-album in its entirety as well as Mexican/American extrememetallers Brujeria. More Artists to be announced soon.
"20 YEARS OF TUSKA" BOOK
Such milestones come around only so often so the moment must be cherished accordingly. Media personality and Tuska-icon Jone Nikula is working on Tuska-book about the first two decades of the festival, which is to be released next year.

EARLY CROW TICKETS ON SALE NOW Special priced "Early Crow" 3-day tickets are now on sale through Tiketti, Ticketmaster, Lippupiste and Festicket starting at 119 €. Early Crow tickets are on sale until 31.12.2016 The number of tickets is limited, so act fast!

Other ticket categories, VIP-tickets and prices will be announced later.

In cooperation with: Radio Rock, Inferno, Imperiumi, Alepa.